We know that you are out , and don't want to alarmed people
So we have a small premium UV Steriliser Wand for you to sterilize what you want
TIGHT AREAS, SMALL PRODUCTS , PORTABLILITY FOR TRAVEL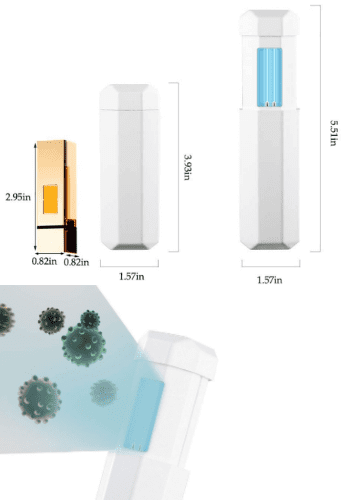 Dimension: 37.5 x 37.5 x 98 mm
Weight: 119.2 Grams
Material: quartz + plastic + electric component
Function: Ozone + UV sterilization
Light tube: quartz tube
Voltage: 85-220 (V)
Use: 2 minutes automatic timing, 45 times for charging
Power: 1 W
Battery: 600 mAh lithium battery 
Sterilization lamp: UV-C 253.7nm with ozone
Irradiance: gt; 300 * 90% uw / cm2 (253.7 wavelength at 5cm distance)
USB charging: 5V 1A
Easy to operate: The UV disinfection light is designed with one button to control the power conveniently.
Scope of application: The UV disinfection light is widely suitable for home, office, business trip, travel, easy to carry and use.
Practical: The UV disinfection light can make full use of the UV light to kill bacterial, mites and so on. Don't put this light to your pet for longer than 2 minutes.
UVC STERILIZER WAND EXPLAINED IN SHOTS
Use omnidirectional disinfection and kill 99% of the surrounding bacteria.
Don't need to spend hours to disinfect items. Use the sterilizing device for 15 seconds to kill all the bacteria.
Our cars often get neglected when it comes to disinfection. Kill germs from your wheel and dashboard with sterilizing wand.
You can do might Things with
UVC STERILIZER WAND