What is the Best Travel Adaptor as Corporate Gift?
A customised travel adaptor or universal plug is a popular corporate gift in Singapore. It is functional, cost-effective and provides a lasting brand image if you chose the right one. As traveling to other countries for work or personal has become a norm, it is often a door gift for roadshow or events.
We have compile a list of best travel adaptors that is suitable for corporate gifts. Below are our suggestions of the must-haves in a travel adaptor.
Components of a Good Travel Adaptor or Universal Plug
USB Port for Charging
It is important to have multiple USB Ports as a component in a travel adaptor. We have become inseparable with our mobile phones and laptops. Charging them requires a USB Port, thus it is a must-have to have USB Ports in a travel adaptor.
Auto-reset fuse for protection, easy access and safety lock mechanism
Some electrical appliance requires different voltage to operate. When you travelled to other countries and unsure of its standard voltage, a safety fuse can help you avoid potential fire. If you have more than 1 electronic gadget to charge, there will be multiple voltage to take care of. During a power trip, having an auto reset fuse will be an added protection. An auto reset fuse will automatically recover by itself in event of a power trip or current leakage.
Look out for easy access and safety lock mechanism as an added bonus. Child-safe locking mechanism will be handy for travellers with children.
Fire retardant, durable and strong material
When a travel adaptor is made of fire retardant material, it means that it will burn slowly
in a fire. It is different from being fire resistant whereby the material is designed to resist burning and withstand heat. When a fire happen, stalling for a few seconds can be a life or death scenario.
Choose a travel adaptor with housing made with aluminum alloy or a durable premium ABS material. A strong and sturdy travel adaptor will endure wear and tear. Your brand will leave a good impression when your corporate gift withstand the test of time.
4 configurations / 150 countries
A good best travel adaptors also caters to 4 configurations – US, UK, China/Australia and Europe pins. It can connect travellers to over 150 countries. You only need one travel adaptors to travel the world.
Using our team collective experience and knowledge, we come up with a few good best travel adaptors that might be right for you as a corporate gift.
Travel Adaptors with Type C USB Port – Future of Travel Adaptor
Travel Adapters with Type C USB Port is the future of smart gadgets. A type C USB Port allows for fast charging and can power up a laptop. It is 2 way and allow for bidirectional charging.
Our top picks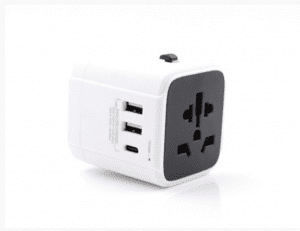 Luggage Travel Adaptor with Type C Port – Built with a Phosphor bronze housing, it is a handy travel adaptors with 4 USB Ports, including 1 with a Type C Port. Your brand can be silkscreen onto it.
Smart Fast Light Up Logo Travel Adaptor with Type C Port – A memorable travel adaptor that illuminate your brand when it is turn on. It has 4 USB Ports of 5.6 Amphere and including 1 with a Type C Port. It has 2 safety protection fuse and safety shutters to prevent short circuit. Able to use in 150 countries worldwide. Power outlet of 2000W  8 Amphere  for high voltage electrical devices.
Extremely Safe with at least 2 Safety Fuses 
A fundamental travel adaptor that have 4 configurations and allow you to access up to 150 countries worldwide. Anti-sticky and durable fire retardant material, it has 2 Safety Fuse and 6 Amphere current protection. Small and easy to store, this travel adaptor will be the one of the favourite corporate gift your client ever received.
For Gadgets Lover 
With 4 smart USB Ports at 5 Ampere each, these USB Port comes with Smart IC Charging that detects the larger current required for charging. It has 4 individual international settings to protect the leakage of current. Weight only at 140 grams with a black matt zip cover, this stylish travel adaptor will delight gadget lover.
The Only Travel Adaptor you need to bring overseas 
A multi-purpose travel adaptor with a 5000mAh Power bank. It can charge up to 2 devices. With 4 configurations, you can use this adaptor in 150 countries. Comes with built-in safety shutters that protect users from direct contact to live terminal. This is especially helpful when you intent to charge multiple devices simultaneously. It has everything you need to charge your phone and plug in your gadgets.
Summary 
To sum up what we share, a good best travel adaptor is light, portable and have easy access. Look for one with multiple USB Ports and at least have 1 Type C Port. Built-in Safety Fuse is important especially when charging multiple devices simultaneously. Make sure it covers 4 configurations –  US, UK, China/Australia and Europe and over 150 countries worldwide. A travel adaptor is a must-have when you travelled overseas. It will certainly bring a smile to your client face when they think of your brand while they are overseas making good use of your corporate gift.
To get a quick idea on the type of Travel Adapters that can be customised, click below:
iwantCUSTOMGIFT started in 2012 and is the winner of Product Innovative Excellence 2019 award.  We inject innovation and turn corporate gifts into practical gifts. Email us to kickstart your marketing campaign.