Why USB thumb drive is a good corporate gift?
USB thumb drive makes a good corporate gift because of its size and function. We live in a technology driven world and needed a lot of storage space for media files. Giving a USB thumb drive as a corporate gift can impress upon the client that your brand is aligns with the times.
Size is the reason
The top reason for choosing USB thumb drive as a corporate gift is size. Generally, a USB is smaller than the size of your palm. It is easy to carry around and can slot into pocket and purse. You can even slide it into your keychain and hook onto bags and keys. Due to its portability and being pocket size, your client won't need to carry a bag to transport the USB.
Perfect sales gift
Client love it when it is free. They can bring it back home and share the USB thumb drive with family and friends. Their introductory videos and products information can upload into the USB thumb drive .
Advantages of USB thumb drive
The key advantage of a USB thumb drive is that there is no lifespan. It can 
be reused
 and share multiples times. Depending on the size of the thumb drive, you can store many applications inside. Besides, there is no downward trend of a FAD cycle as people will always use it. In times when the IT network is down, it is a good back up plan to store the files in the thumb drive to share with colleagues.
Top 10 Applications of USB thumb drive
Home Use
Plug and Play USB inside a car media player or airplane
Store Presentation slides
Handy in Rural Areas where WIFI is low
Scanning of documents stored inside the USB thumb drive
Inter sharing of files with colleagues
Useful for videographer and photographer to pass photos/videos to clients
Useful for event organizer to pass photos to clients in a nice package

Used as media/press release kit for journalist, bloggers and influencers

Present as an appreciative gift kit set to VIP customers, shareholders and partners
Materials of USB affect branding
When choosing a suitable USB as your corporate gift, consider its materials. As it will create different impressions to your clients.
1. Leather gives the impression of premium. A suitable corporate gift is our Clip On Button Leather Keychain USB.
The leather outer layer oozes sophistication. The USB is accessible by swivelling out from the leather pouch. Your brand can engraved or printed onto the leather pouch for largest exposure. It comes with a keychain to attached keys. Suitable as seminar gifts, events giveaways or business partner giveaways.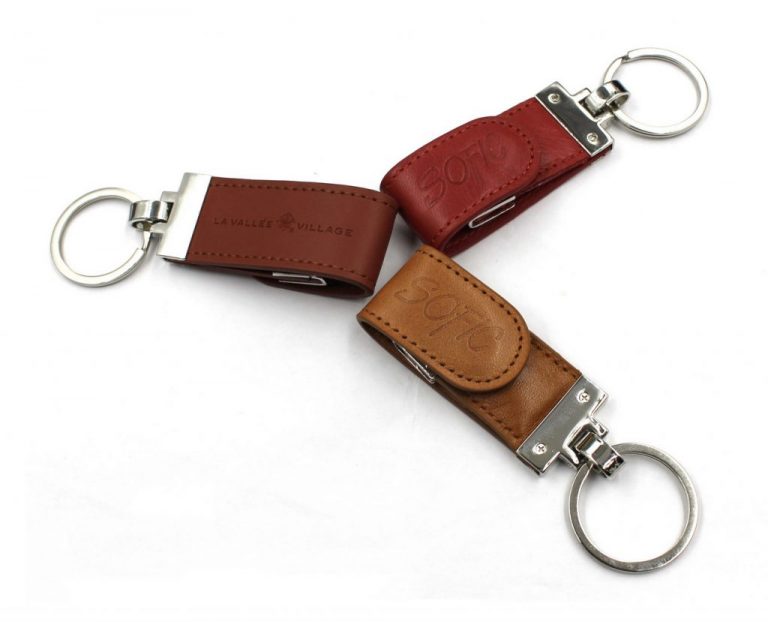 2. Metal gives the perception of durability. An example is one of our products Full Metal Swivel USB.
It has a compact metallic housing that protect the USB thumb drive. The USB is swivel to another end for used. It is suitable as gift in seminars, events and partner giveaway.
3. ABS plastic is seen as economical, though some of our products still passed off as sleek-looking. Here is an example – Top Slider USB.
The USB is housed within a sturdy plastic case. Just slide from the case to gain access to the USB. Although the material is made of ABS plastic, the curve design and smooth exterior still passes off as sleek-looking.  Suitable as seminar gifts, exclusive event giveaways or internal giveaway (staff welfare).
4. Wooden creates a classic feel. One great example is one of our products – Wooden Rectangle USB.
 Create a homely feel when you present this wooden USB to your client. You can choose different type of packaging but our suggestion is to match the wooden USB with a wooden packaging as shown below. You can print or engraved your brand onto the wooden surface. Suitable as seminar gifts, business partner giveaways or exclusive even giveaways.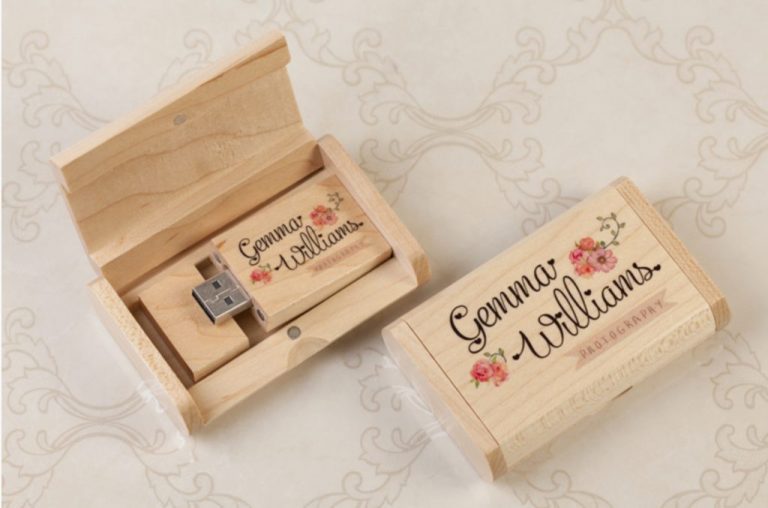 Latest trend in USB thumb drive
As the technology world evolves, so does the world of USB thumb drive. On the market now are thumb drives that cater to smart phones and new generation lap-top that use Micro-USB or USB Type-C port. USB Type-C thumb drives transferred media faster, is smaller and its reversible (meaning you don't need to figure out which way to plug into the port).
If you are doing marketing for a younger crowd, consider some of these USB Type-C thumb drive or dual thumb drives that can also plug into smart phones.
Unsure what type of USB thumb drive to give as corporate gift, consider this 4 in 1 mobile flash drive. It is a multi-functional phone thumb drive that has 4 ports. They are Micro USB / Type-C / Apple / Android. Your brand can be silkscreen and laser engraved.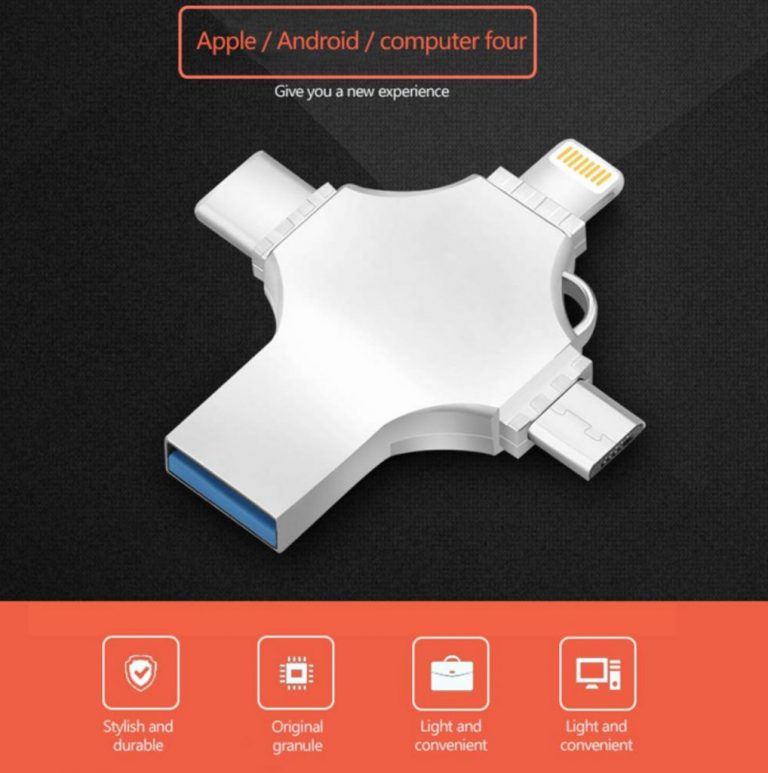 Compatible with IOS, Android and Wndows. This is a 3-in-1 adapter that can easily transfer information between laptops, tablets and smart phones. There is a choice of 8GB, 16GB or 32GG for storage space. You can silkscreen, UV print or laser engraved your brand onto 1 side of the USB Thumb drive.
This is a 3-in-1 thumb drive that can stores media files from Apple or Android Phones, computer and laptop. It has a lightning connector (for Apple iPhone & iPad, include iPhone X 8 7 Plus 6 6s 5s 5c 5 SE, iPad Air Air 2 mini Pro 4), Micro USB connector (for android phones with OTG function) and USB 3.0 connector (for PC laptops). You can silkscreen, UV print or laser engraved your brand onto 1 side of the USB Thumb drive.
Summary
In conclusion, it is good to consider giving USB thumb drive as a corporate gift to show that you are aligned with the times or you are marketing to a younger crowd. Materials of the USB will determined the type of impression your brand portrayed.
To get a quick idea on the type of USB thumb drive that can be customised, take a look at this page.
iwantCUSTOMGIFT started in 2012 and is the winner of Product Innovative Excellence 2019 award.  We inject innovation and turn corporate gifts into practical gifts. Email us to kickstart your marketing campaign.