We integrate Wireless & Practicality onto your work desk so
you can work seamlessly with this.
WE WANT YOU TO WORK COMFORTABLY AND CONVENIENTLY WITH THIS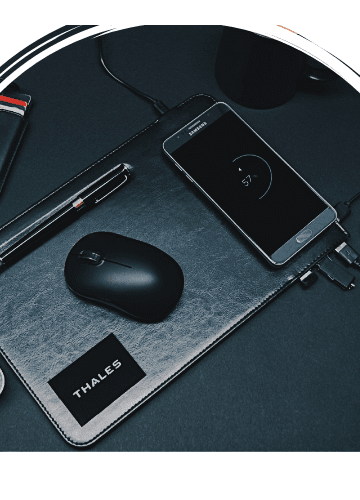 Dimension: 29.5 x 19.5 x 1 CM
Weight: 292 Grams
Material: PU Leather
Input: 5V, Max.2A
Output: 5V, Max.1A
Transimit Distance: 5mm
Charging Efficiency: 80%
Power: 5W
SMART MOUSEPAD EXPLAINED IN SHOTS
Simply rest your phone onto and plug in the cable to charge your phones.
Plug-in and power up your speakers and other electronic gadgets too.
We know you work hard, hence we gave you 3 USB port to plug your wireless devices.
You can do might Things with
SMART MOUSEPAD