Best Portable 10000mAh Power Bank – Corporate Gift Idea
Depending on the occasion, it might be a good idea to pick a power bank as your corporate gift. We carry and use our phone every day, so why not put your brand on a Power bank and gifted it to your clients.
There are many varieties of power banks in the market, but how to know which latest model to get? Let us share our vast product knowledge with you about the best portable 10000mAh Wireless Power Banks available in the market.
What is mAh?
mAh is the abbreviation of 'milliamp-hour' and is used to express the electrical capacity of smaller batteries. Under the International Systems of Units, 'ampere' is represented with a capital A. The mAh for Power bank ranges from 2000mAh to 26,000mAh. The bigger the mAh means larger the power and more recharges for your smartphones.
Is 10000mAh enough?
The normal standard for power bank is 10000mAh. Take note that commercial flights do not allow 20,000mAh power bank onboard. Thus, it is a safer bet to get 10,000mAh so that you can use it when you are overseas.
3 Useful Features of a Good Best Power Bank
Support wireless charging
Wireless charging or inductive charging has actually been around since the late 19-century. It is an invention by the Serbian-American electricity pioneer, Nikola Tesla. However, it is only in the last couple of years that wireless charging become a trend.
Below is a list of best smartphones which support wireless charging:
– Apple iPhone 8
– iPhone 8 Plus
– iPhone X
– Huawei P30 Pro
– Huawei Mate 20 Pro
– Samsung Galaxy S10 Series
– Samsung Galaxy Note 10/plus
– Google Pixel 3/3XL
– Xiaomi Mi 9
– LG G8 ThinQ
– Razer Phone 2
– Nokia 9 PureView
– ZTE Axon 10 Pro
Note: Newer smartphone supports wireless charging, however, older phones can purchase a casing or other device that integrates an inductive coil to facilitates wireless charging.
How does wireless charging works in a power bank?
Wireless charging or induction charging technology uses the electromagnetic fields to transport electricity either by touching or in close proximity. Two coils of copper wire are put next to each other and this creates, that allows and to pass through. Currently, the most popular wireless charging standard is the Qi standard.
Have at least 2 USB ports
Having more than 2 USB ports means that you can charge more devices at the same time. This improves productivity and saves some time when you are rushing for projects.
USB Type C port output
Type C or USB C port is a new generation of USB port that is able to transmit data at high speed. It is thinner than previous USB port versions and helped shape new smartphones to become thinner too. When you linked your mobile to the power bank using a Type C port, it enhances, allows, and supports fast charging. Type C port support laptop charging.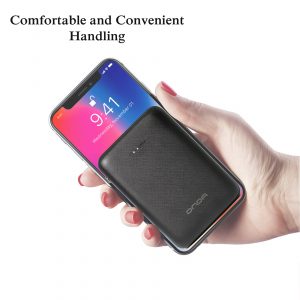 The world's smallest-sized portable 10000mah power-bank is a great corporate gift idea as it is a conversation starter as well as impressing your clients with your resourcefulness. Half the size of a normal power bank, it comes with 2 USB Ports and charges 2 devices at the same time. The power bank can last 3 to 4 charging but delivers large energy.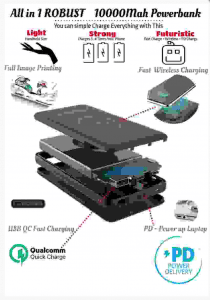 A common problem we encountered during our working life is having low battery on our laptop when we are out of office. When demonstrating our products on our laptop in a café or outside environment without a power source, we often encountered our laptop running out of battery. A handy power bank that power up laptops proves to be a useful gadget. Imagine gifting a corporate gift that serves as a life-saver for your client.
This power bank comes with Qualcom 3.0 that can charge your laptop and phone 3 times faster. Support Wireless charging. It is strong, durable and of scratch proof material. Allow Type C power delivery. Suitable for travel, Picnic, Party, Outdoor Activities, Business.
For a more practical and functional portable charger, we introduce this 10000mAh built in cable wireless power bank. It can charge your smart phone 3 times faster. Slim and portable, it has dual ports to charge 2 devices at once.
With a wide range of products in our inventory, we are always looking out for the next trend of power bank. We sourced the market to bring to you the future of power bank. A multi-purpose electronic gadgets, it is a qi wireless charger, a portable phone charger and a travel charger integrated in one.
It will come, allow with a universal wall plug that allow 4 configurations to 150 countries. Support wireless charging and have 2 USB Port to charge 2 devices at the same time. Type C Input/Output Port to support reverse and forward charging. There is a number of digital display to monitor battery status.
Summary
To sum up, what we share, it is best not to customized 20000mAh power bank as commercial flights do not allow it onboard. The minimum mAh is 5000mAh. However, 10000mAh is the standard. Newer smartphones can support wireless charging but for older phones, a casing or additional devices need to be attached. A Type C port supports laptop charging. Last, of all, remember to choose one that has a fast-charging output so that you can charge your mobile at a much quicker rate.
To get a quick idea of the type of power banks that can be customized, take a look at this page.
iwantCUSTOMGIFT started in 2012 and is the winner of the Product Innovative Excellence 2019 award.  We inject innovation and turn corporate gifts into practical gifts. Email us to kickstart your marketing campaign.